12-Weeks Mind-Body Challenge
A HEALTHY TEAM IS A HAPPY AND MORE PRODUCTIVE TEAM
Discover how good you can feel in your body!
Do you invest in your employee's health and well-being? Your employees health directly impacts your company's success.

 
Stress at work is a huge problem that is widespread globally. High pressure, deadlines at work and finding the right work-life balance can lead to increased stress levels. This takes away clarity, efficiency, harmony, creativity, as well as your enjoyment of work and life. When this situation goes on for longer, many employees suffer from

chronic sleep problems, digestive issues, depression, burn out and other health issues that decrease their well-being and productivity.
For far too long we have prioritised doing well over being well.
Most health and wellness initiatives today focus on a person's physical health, not their overall wellbeing. This leads to a lack of engagement and wasteful spending. We need to look at a more holistic view of our employees' health to have a profound and long-lasting change. This should include mental/emotional health, stress management, preventative care options and more.
If you support their health & well-being by giving them the right tools, the team and company gains strength.
Getting a little help with that can uplevel everything!
12-Weeks Mind-Body Challenge
The 12-Weeks Challenge combines Ayurveda for a modern life with the science of habit formation and dynamic group support. Ayurveda offers various tools like self care, self awareness, body type evaluation – understanding your unique constitution will help understand what you require to create more energy and mental clarity along with a healthier body. These tools will help manage stress better. The healthier you feel with body and mind the efficient or productive you will be for the organisation. 
Habit 1: Better Energy
Habit 2: Evening Glory
Habit 3: Morning Magic
Habit 4: Prana up your Life
Habit 5: Vitality Boost
Habit 6: Healing Hands
Habit 7: Inner Stillness
Habit 8: Digestive Fire Boost
Habit 9: Sense Organ Party
Habit 10: Easeful Living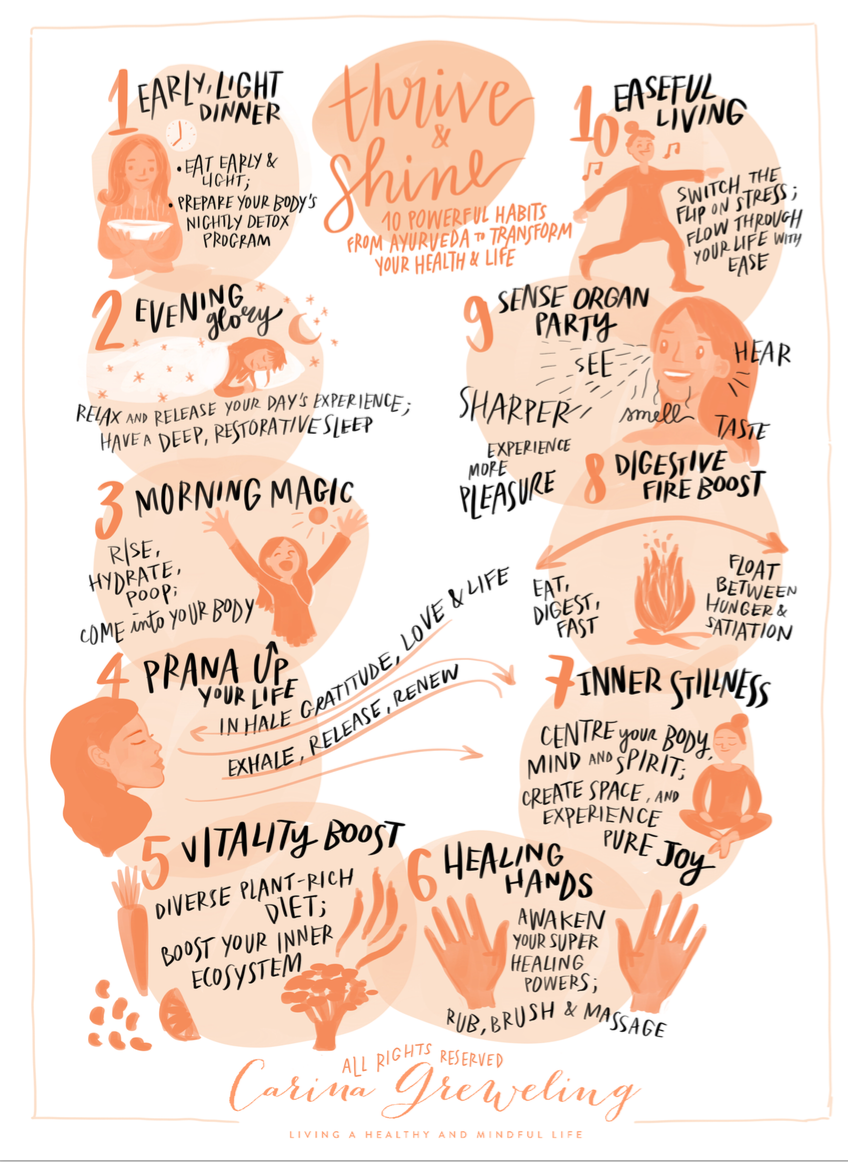 Learn. Take action. Repeat.
We meet via ZOOM video conferencing to share, learn, reflect and talk about your challenges, wins and setbacks. You can access the classes from wherever you are and can watch the recording if you can't make it.
A 12-month healing journey into a routine to flourish and thrive
Habit 1: Better Energy
Habit 2: Evening Routine
Habit 3: Morning Magic
Habit 4: Prana up your Life
Habit 5: Vitality Boost
Habit 6: Healing Hands
Habit 7: Inner Stillness
Habit 8: Deepening
Habit 9: Sense Organ Care
Habit 10: Easeful Living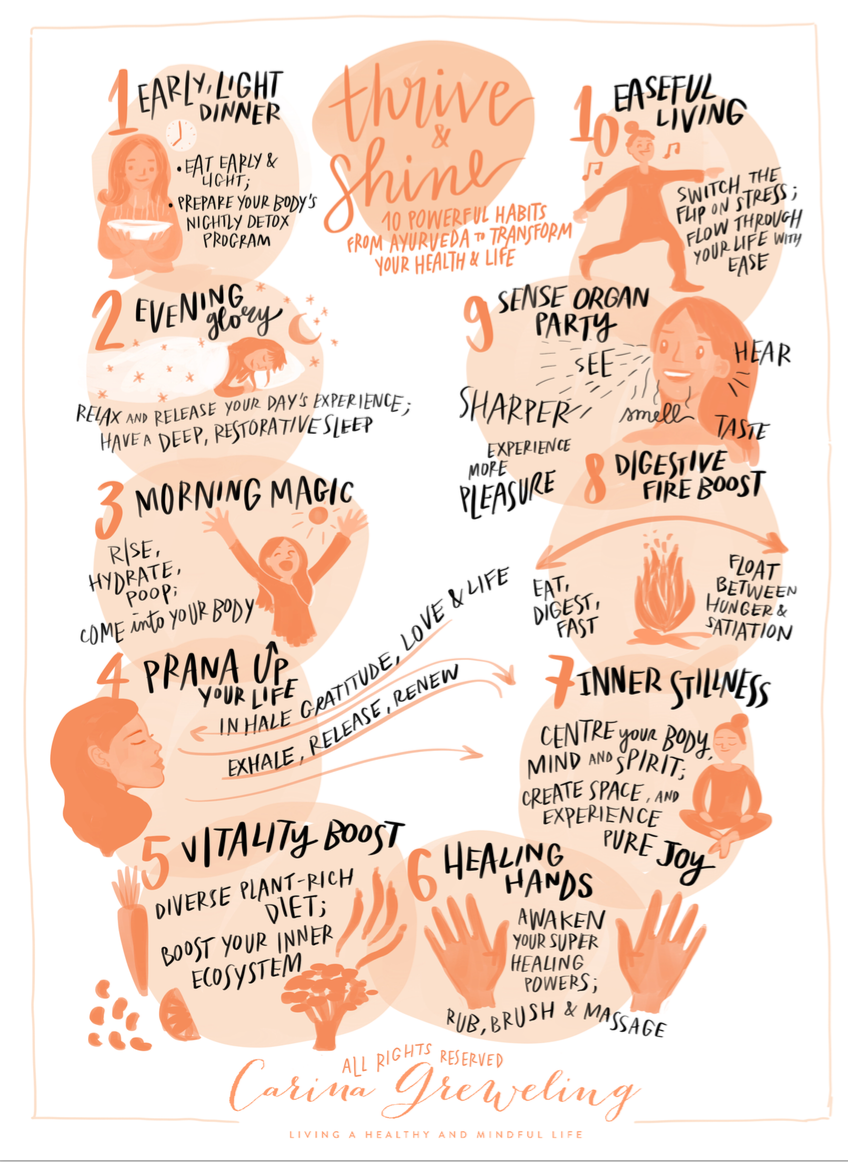 Quarter 1: Discover and learn the habits
Quarter 2: Work and deepen the habits
Quarter 3: Automate and further deepen the habits
Quarter 4: Be the habits and tap into your unique potential
We meet via ZOOM video conferencing to share, learn, reflect and talk about our challenges, wins and setbacks. You can access from wherever you are and can watch the recording if you can't make it.
We also have two all-day live events in Barcelona to connect deeper with the community and to explore our body and mind in a creative and playful way.
Do you want to thrive in your professional and private life? Do you wish to lead a self-determined life? In that case, you need to make yourself a priority and to integrate new healthy habits.
How often did you intend to slow down, to sleep more, to eat healthier and create a life with less stress? How often did you wish to attract other people to your life and be less reactive in your relationships?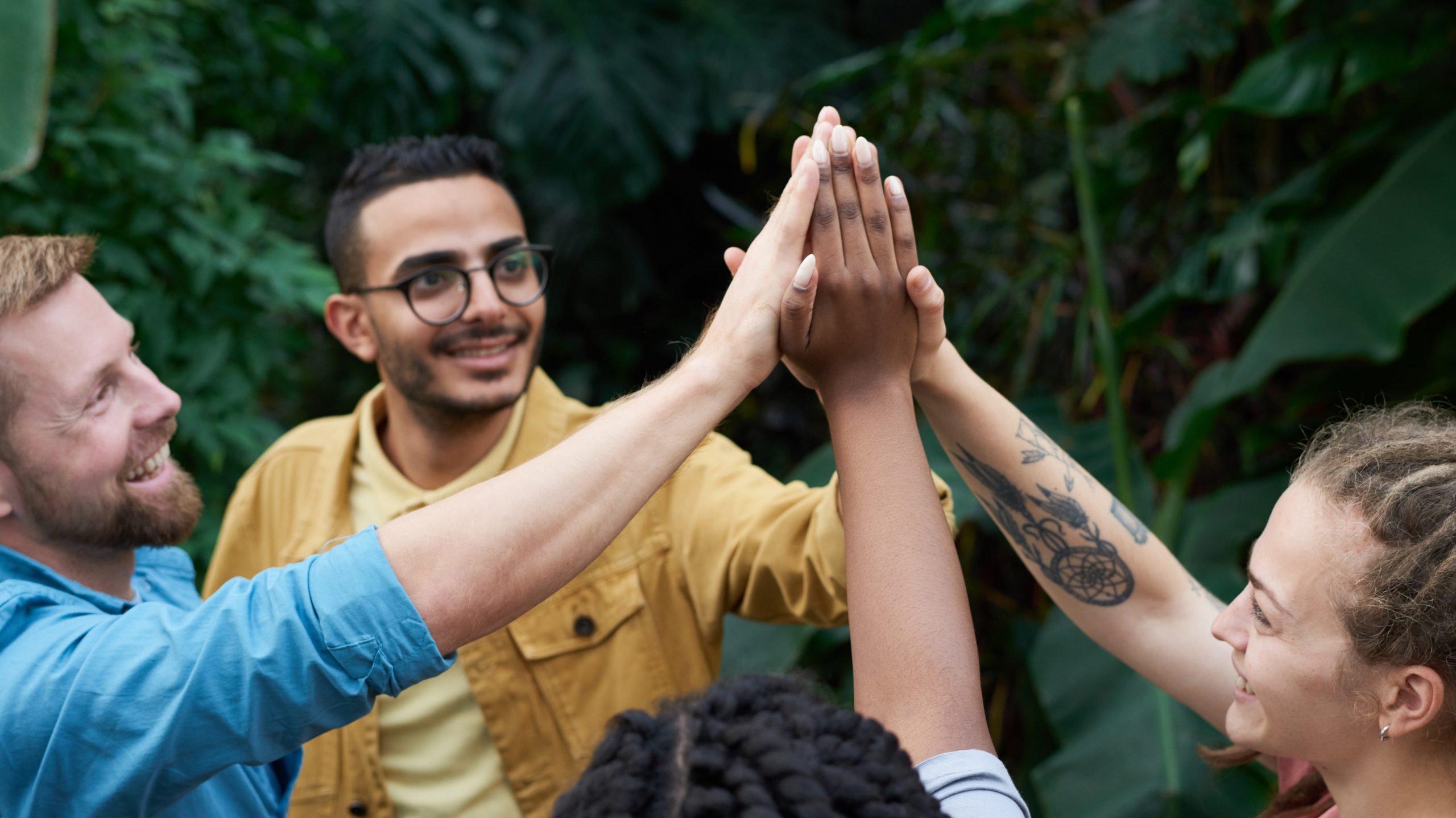 You started highly motivated, very determined and maybe even adhered to it for a couple of weeks, months… Then you had some problems in your job or relationship, became sick, went on holidays or had a few bad days. You slowly started here and there with some exceptions until… you ended up back where you started: in your comfort zone. The place you're familiar with and that feels secure.
You discovered that it's not easy to change outworn habits and routines and maybe you felt frustrated, angry, guilty or sad upon realising that.
If you want to change your life, you need to change your habits!
How will you integrate deep rhythm in your daily life?
Just imagine you're given the tools to successfully implement new habits and routines that you love, along with the support of people that understand exactly what you are going through. That would be wonderful! Do you think that's possible? I say YES it is!
There is no quick fix for sustainable changes and deep internal transformation processes. I myself, love working with affirmations, practising self-love, and meditation. Still, I think we need more to experience a profound shift.
The 12-Weeks Mind-Body Challenge includes
Online course hub with video lessons on the 10 core habits of self-care
1 weekly group coaching call
3 one-on-one coaching sessions to work on one specific challenge
Private group forum
Workbook with checklists and worksheets
Library of yoga + meditation classes
Mobile app for easy access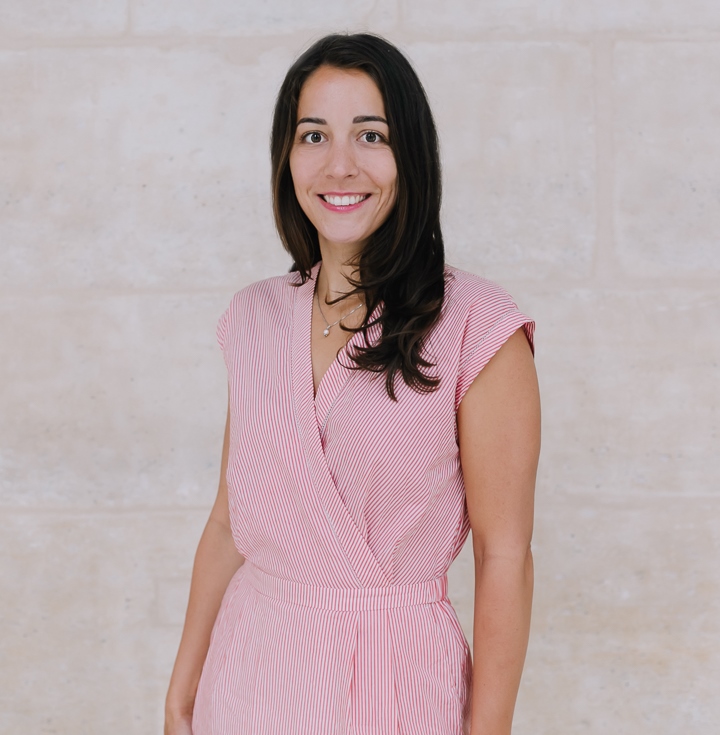 Hi, I am Carina.
I'm a mom, yogi, Eastern medicine lover, traveller, lifelong learner and discoverer. Over the last 20 years, I've invested most of my time and money in personal development and natural therapy modalities.
Each course, retreat and training I took, helped me to understand my body and mind better. Progressively I found restful and deep sleep, my skin eczema disappeared, my digestion became regular and smooth, and my painful periods belonged to the past.
I developed a more compassionate and loving way towards others – and myself – and found moments of deep satisfaction. It took me quite a while to get there. It has become my passion to guide and accompany others on their healing journey.
This course combines everything I have learned. It will be transmitted in an easy to understand and applicable way, so that you experience personal growth and find better health and more fulfilment in your daily life.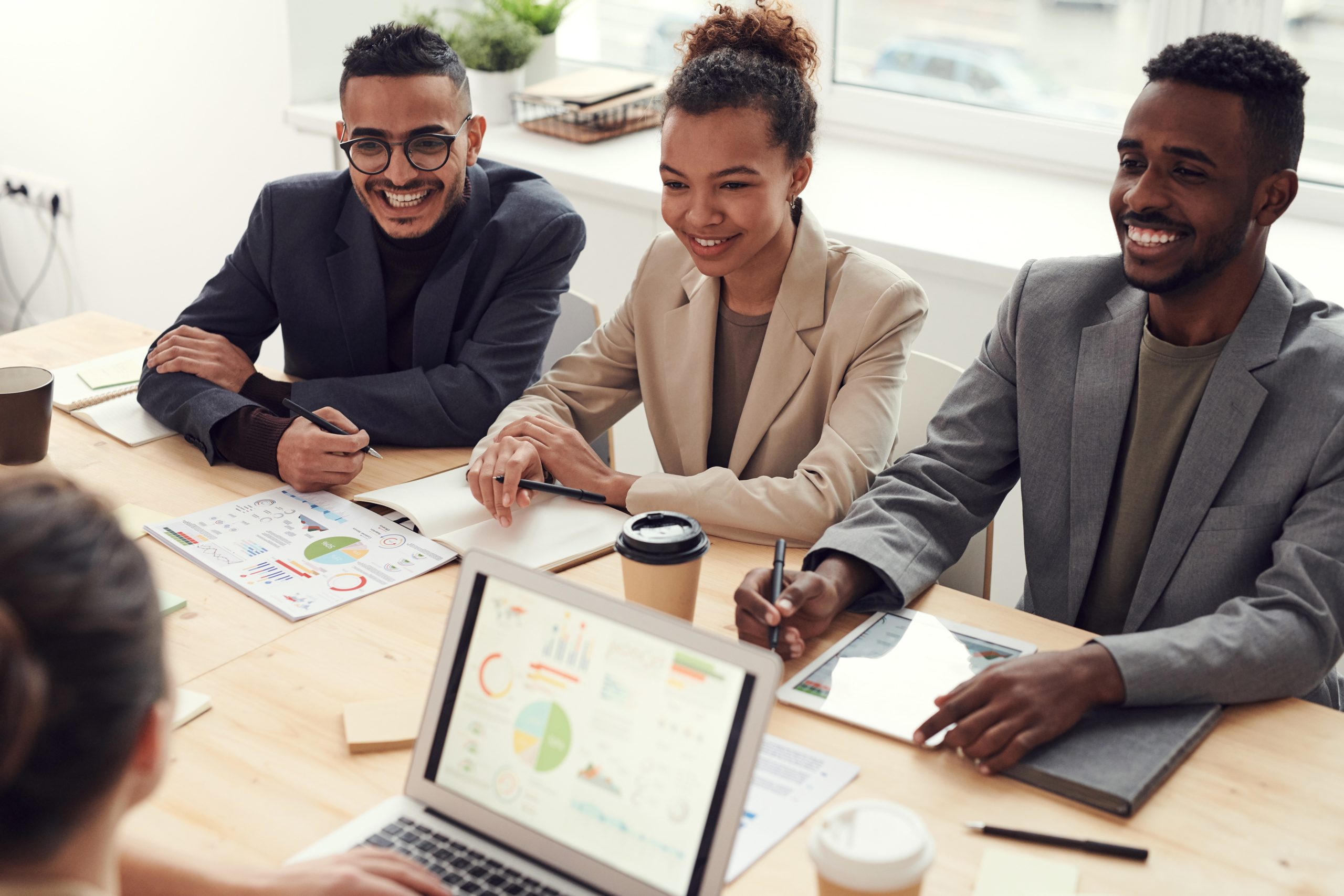 At the end of this journey, each member of the team will:
Understand their constitution and see the first signs of imbalance.
Develop an optimal morning and evening routine for a joyful and energised day and a restful, deep sleep.
Have learned how to prepare healthy foods easily and quickly.
Be proactive, not reactive towards challenges.
Feel energised, rooted and positive.
Have better focus and concentration.
"Good habits are just as addictive as bad habits and a lot more rewarding!"
Alissa X.
I was in the pilot group of Carina and can't be grateful enough! These seemingly simple habits have had an immense impact for me. Throughout my adult life, I've tried to maintain a very healthy lifestyle, so I wasn't sure what effect the habits would make me for me—thinking that I already embodied most of them. But after going through the process, and learning the intricacies of the habits, I found that I could still make small changes and see major results. I've been going to bed early for the past several years, but now when I wake up, I feel more rested and energised. I feel so much more easeful as I start my day, which makes the rest of the day go much better.

Mark S.,
Department Manager 
This is the best program that I could have chosen for our team! Living and practising the habits has not only improved the health physically & emotionally, but also the quality of team work and work atmosphere. What has been really remarkable has been making the changes in really subtle ways. It helped us not only let go of perfectionism, but also to create very sustainable changes in our daily habits. The team members report having more energy, having lost weight, better sleep and feeling in general just happier. I loved the way Carina organised the course and we got so much out of the live calls and workshops! Her knowledge about the body, mind and Ayurveda is impressive! Her compassionate and caring way has helped us to be kinder to ourselves. I highly recommend it!

Helen T.
The ten habits I learned, practised and finally weaved into my life are foundational to the stability and clarity I feel in my body, mind, emotions and spirit. Thanks to these habits I am clear on what actions to take when life derails me. As a result, I'm not "down" for long. Six months after I started practising the habits, the change in my diet (hence my digestion) and going out in nature regularly, contributed largely to the rebalancing of my thyroid and I was able to come off my hyperthyroid medication naturally. Before I joined the course, I had known that eating a predominantly plant-based diet, regular activity, and so on were good for me. However, it was the course material, coaching and community support I received in the course that enabled me to understand the importance of the habits and hence embody them.