Intensive Yoga & Meditation Retreat
About Our Yoga Retreat
All our retreats combine yoga, meditation, breath techniques, vegetarian food, group discussions and other activities, like sound healings. Furthermore, you will meet like-minded people and make new friends, and by the end of the retreat have learned about yoga, different meditations and breath techniques.
No matter what your motivation is for coming here; whether it's to reinvent your life or simply to take a break, we aim to make your stay relaxing, inspiring and above all an unforgettable experience. The group size is 10-16 people.
A Journey through the 5 Elements of Chinese Medicine
Sun 29th of Sep until Sat 05th of Oct 2019
7 days/6 nights incl. vegetarian full board
€ 750.-/ for shared room
€ 880.-/ for a single room
In our retreats we create the ideal conditions for a profound practice of yoga, meditation and breath techniques to enhance health, relaxation and wellbeing. Body, mind and soul can find their balance.
Photos of past Retreats & Workshops
The Yoga Retreat includes
Different meditations that flow into our grounding
A deep dive into vinyasa yoga and yin yoga
Time to discuss and break down poses
Different breath techniques (Pranayama)
Delicious, organic vegetarian cuisine – 3 meals daily
Sound healing (Tibetan singing bowls)
Optional bookings for Reiki and massages on-site
The morning class is a dynamic and intensive vinyasa flow. Variations will be given for each individual's level.
The evening class consists of yin yoga asanas where we will work on strengthening sinews, ligaments, joints and fascias.
While holding the asanas (about 3-10 min.) we learn patience, surrender and to focus our attention inwardly. As a result we give room for calm and equanimity to develop.
The combination of active yang yoga (vinyasa) and passive and calm yin yoga, guides our inner energy towards balance.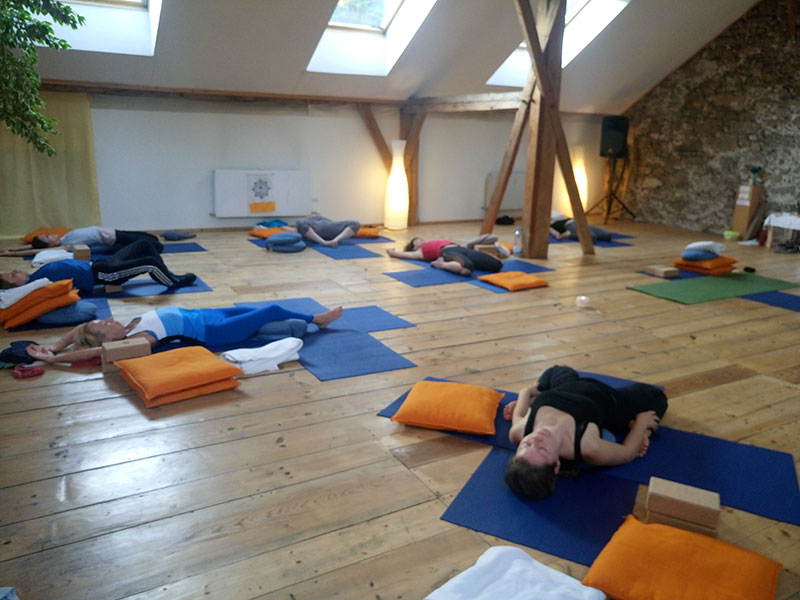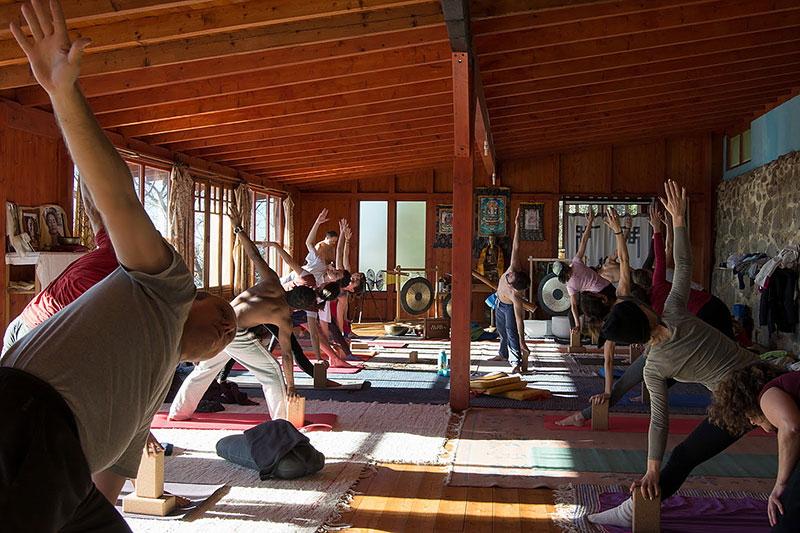 Chinese Medicine and Yoga
We will get to know the five elements of Chinese medicine: wood, fire, earth, metal and water. Each day is dedicated to exploring one element physically, emotionally and energetically.
Through our exploration e.g. of the "earth" element we will find stability and grounding through yoga asanas and meditations. Our exploration of the "fire" element is a dynamic practise with strong asanas which produces warmth and above all opens our heart to make more room for passion and love.
Your daily practice at the retreat will teach you more about yourself, how to transform strong and negative emotions, and furthermore balance your yin and yang.
Yoga styles explored on the retreat
Vinyasa Yoga: A dynamic yoga style that combines movement with breath to flow from one pose to the next.
Yin Yoga: A slow-paced style of yoga with postures that are held for longer periods of time to calm the mind and stretch the body.
About the Yoga Retreat Center
The retreat centre is nestled in the green mountains of Serra de Monchique in the Algarve. Offering a stunning view over Portugal's southern coast and the Atlantic Ocean, it is just 20 minutes away from pristine beaches. Serra the Monchique is known for its healing thermal water, medicinal plants, pure air and lush green landscapes and is home to a variety of local flora and fauna. The retreat centre's property is amongst one of the most secluded and silent places in this area and therefore perfect for those in search of silence, seclusion and peace.
Idyllic surroundings, silence and healthy nutrition along with a balanced yoga and meditation program therefore creates a healing and holistic experience.
Highlights
Large meditation & yoga hall with wooden floors and a view over the Atlantic Ocean.
Small meditation hall for those who need more quietness and a smaller space for mediation.
Dining hall with a view.
A lake to refresh
Labyrinth garden
Treatments (massage, Reiki, etc.) can be booked on-site