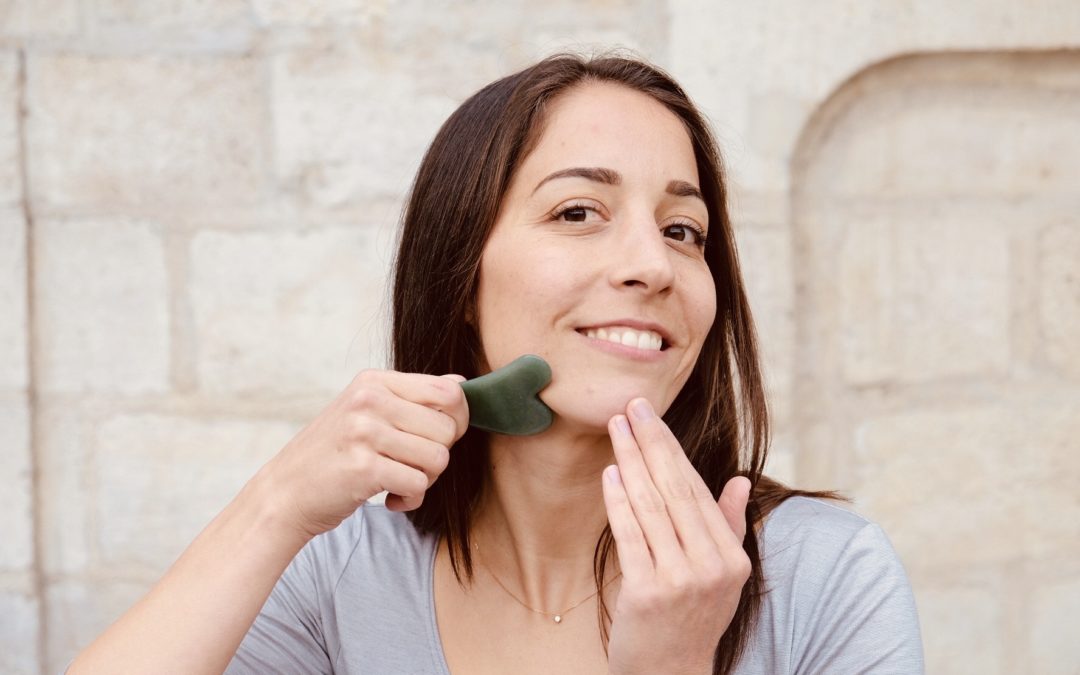 Gua Sha the natural facelift
An effective help against wrinkles, blemishes and pimples that you can do yourself, wouldn´t that be great? And if you could see the results right after the treatment, that would be even better! Gua Sha face massage can do this.
Facial Gua Sha is the Chinese beauty secret to rejuvenate your skin naturally and to smoothen your wrinkles. That´s why we call it the "Botox of the Far East". This centuries-old method from Traditional Chinese Medicine has proven itself in a way no cream, no matter how expensive, can do. It makes sense to fight facial aging holistically instead of injecting individual wrinkles which brings some health risks with it. The results of Gua Sha are visible on the entire face and the treatment has a noticeably positive effect on health and well-being.
What is Gua Sha?
Gua Sha, also called scraping, is an ancient massage technique in which the skin is repeatedly scraped with a rounded object (porcelain spoon, coin, horn or jade scraper). It is often used on the back and muscles, where the scraper is pressed firmly onto the skin and repeatedly moved along a meridian, muscle cord or fascia.
Gua Sha helps to dissolve stagnations that have accumulated in skin, muscle and connective tissue. The skin itself is irritated but not injured. As a result, bruises can occur in these areas. However, these are only a sign that the tissue is detoxifying. 
But no worry, this is not going to happen when we do Gua Sha on the face.
How to use Gua Sha on your face
The face is only gently scraped in certain directions without producing any bruises, just strong enough to reach the deeper connective tissue. The result is supposed to be rosy skin with good blood circulation. Consequently, the face will look more sculpted and lifted.
How much pressure we apply is very individual. While one woman gets red skin very quickly, another has to scrape very long until the skin really shows colour.
A Gua Sha facial treatment also includes the neck and décolleté as tensions in these areas also influence the face features. We normally use a Jade scraper for the treatment. Jade is a cooling and cleansing stone. 
Of course, it's great to begin with it early in life but it´s never too late to start with this anti-aging face massage. Besides smoothing scars and wrinkles and preventing new ones, it helps to have a fresh rosy complexion with soft and friendly facial features. Blemishes and acne can improve significantly from it.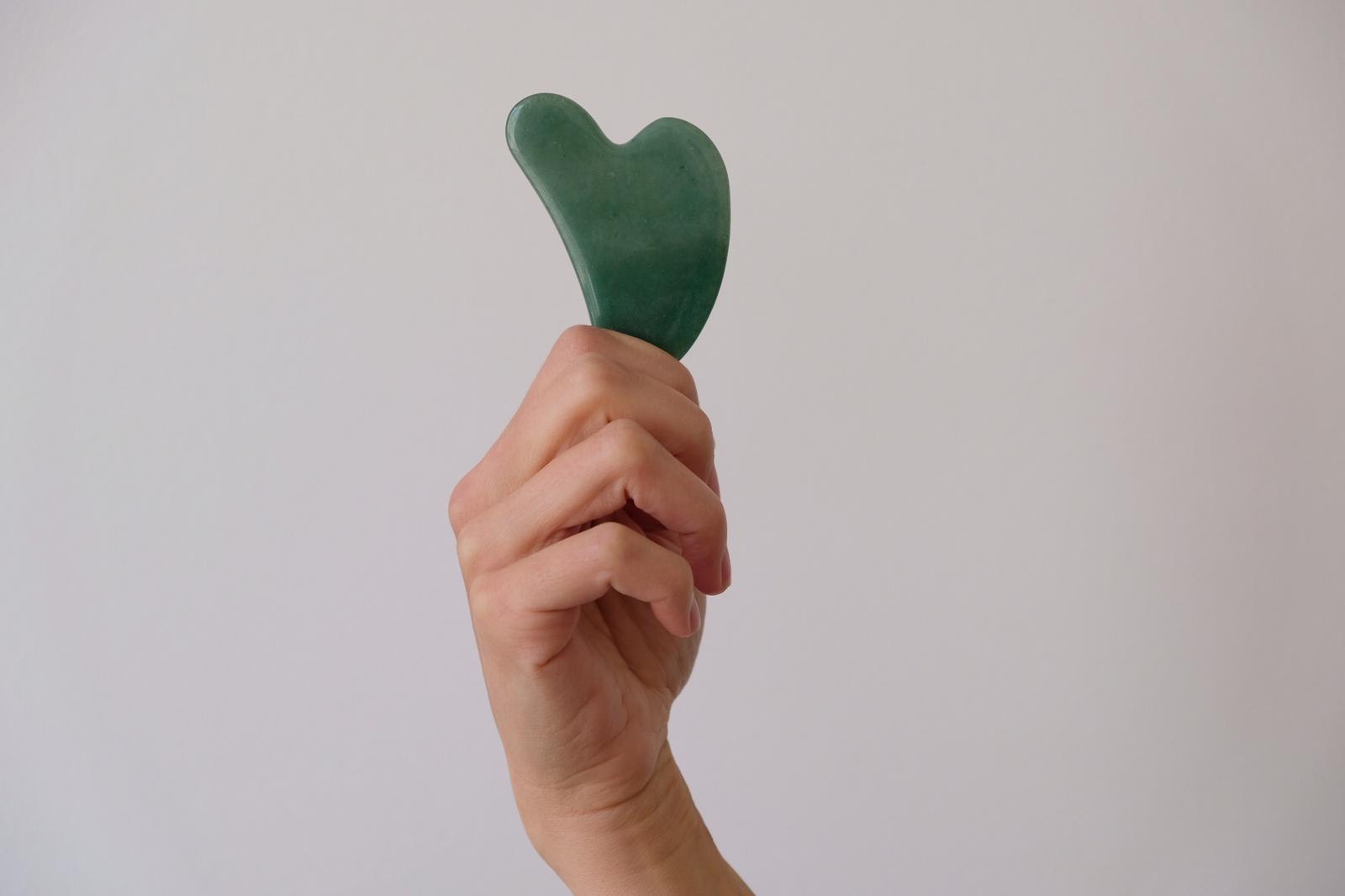 How often and when best
The best time to scrape is in the evening. During the Gua Sha face massage the facial fascia gets a lot of impulses, and the tissue continues processing them without you noticing it at full speed. As a result, the skin is much more sensitive to sun light and air pollution and needs the rest and safety of being at home. The actual work of the fascia often happens after the massage. Many acupuncture points are stimulated during the scraping. Therefore the skin is happy when it has some time to relax afterwards and you will have a better and more profound result the next morning.
8 benefits of Gua Sha facial massage
1. Powerful remedy for acne and pimples
The stimulated blood circulation improves wound healing and the skin has an improved ability to clean dirt, sebum and clogged pores. Therefore it has a very positive effect on acne and pimples. 
2. Gua Sha smoothes the skin
After the treatment the skin looks a bit like ironed out. When you have already scraped one side of the face, compare it with the other one. You will see a difference!
3.
Detoxifies the tissue
Gua Sha has a strong detoxifying and cleansing effect and helps expelling disease-promoting substances out of the body.
4. Frees the fascia
Glued fascia are stimulated to remove blocked substances, which have settled over time in certain areas.
5. Moves the lymph
The scraping massage moves the lymphatic fluid and thus helps the lymphatic system to remove waste materials. The lymphatic system becomes sluggish with age, which leads to unsightly swellings e.g. puffy eye bags.
6. Relieves tension
Muscle tension such as in the jaw or neck are loosened. Sometimes the tension is more concentrated in the forehead and mouth area. You might subconsciously press your lips or draw your eyebrows together and this encourages new wrinkles. Gua Sha helps the muscles to get rid of the tension and can help to improve headaches, neck and jaw pain.
7. Improves the absorption of nutrients
After the massage the skin is extremely well supplied with blood, and nutrients can be absorbed and stored again in the skin. Therefore it´s advisable to put on a face mask from time to time after scraping.
8. Stimulates the flow of energy
Since there are many meridians in the face, the Gua Sha massage stimulates countless acupuncture points. This benefits the face's energy cycle. Consequently, tensions in the neck and jaw and jammed lymphs on the throat can be unblocked and removed. 
Online Facial Gua Sha Course
I invite you to learn this wonderful method very comfortably in my online course so that you can use it with a good feeling. In this course you will learn the full technique for applying Gua Sha in your face, neck and décollté.
The Gua Sha self-massage takes less than 10 minutes once you master it, and it significantly enhances your face care program. 
The online course includes as well:
face gymnastic

lymphatic drainage anti-aging massage

post-treatment face mask 

herbal tea mixture for better skin
I give regular Facial Gua Sha workshops in Barcelona. Get in touch with me for more information.
Online Facial Gua Sha Course
Pamper your skin with the treatment once reserved for Chinese royalty. This course will provide you with the Gua Sha techniques to use as part of your home beauty regime.
Encourage your collagen where you want to, tighten facial muscles, move your lymphs and remove puffiness for a younger and brighter looking face.